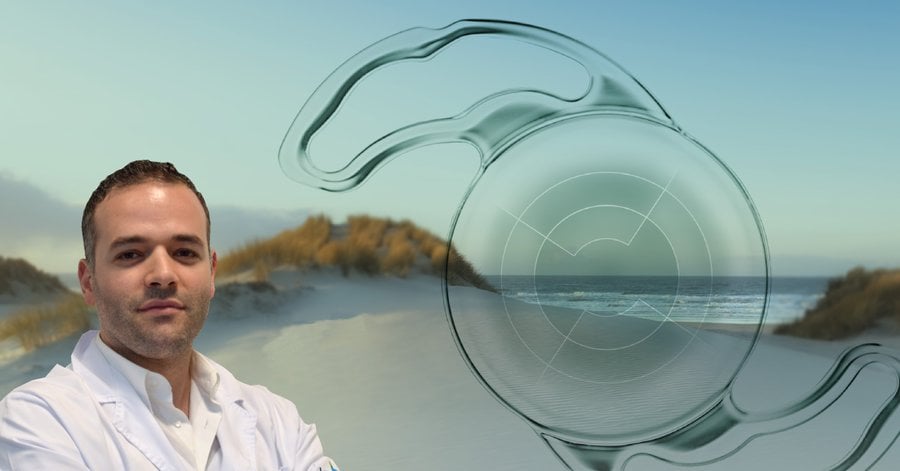 Dr. Oliveira
There are many Presbyopia correcting IOLs available, what makes Ophtec's lens special according to you?
These new concepts of IOLs that favour far and intermediate vision with minimal loss of vision quality rather than all-distances vision and some degree of quality vision loss, are in my opinion much more physiological. We don't know what the future will bring us, but for the present and near future, these type of IOL concept is, in my opinion, the way to go.
How many Precizon Presbyopic lenses have you implanted so far? How are the outcomes?
Close to 100 Precizon Presbyopic IOLs. The outcomes are very promising: excellent far and intermediate vision, but most of all, little or even no complaints about quality vision issues, that as we all know, are very common with the "classic" multifocal IOLs. All patients need reading glasses for J1, but not for intermediate vision. This gives a high level of glasses independence for most daily activities.
Do you use both models of the lens? (NVA A1 and A0) What do you think are the intended patients for these lenses?
I'm only using the NVA A1 model. Almost all patients for cataract surgery or refractive lens exchange that are seeking glasses independence for daily activities with minimal quality vision loss are suitable for this type of IOL. The absence of toric correction is a limitation of this IOL. Therefore, patients with high astigmatism are not suitable for this model of IOL.
What is your most special Precizon Presbyopic patient story?
I don't have "one" special patient story. The best story is that with careful patient selection, the satisfaction rate is extremely high, and so far, I didn't have to explant any of these IOLs because of quality vision issues.
When did you start working with Ophtec?
I started working with Ophtec early during my ophthalmology residency, and cooperation have been always the best. I use both Artisan and Artiflex family models since 2005, Precizon Toric IOL since 2014 and more recently the Precizon Presbyopic IOL.
Can you tell us about the impact of Covid-19 in Portugal and about the changes the virus has brought about in the daily routine of the hospitals/clinics? Will these changes last?
The impact of Covid-19 was tremendous in our daily practice during March and April. Our practice has been reduced to eye emergencies only during that period. In May, under very strict measures, we slowly started our routine practice. We now realize that following these rules strictly is possible to have a "normal" daily routine again. Unfortunately looks like these changes will last for a long time.
More on the Precizon Presbyopic IOL

This interview has been published in Ophtec's magazine OphTheRecord (edition 2020 - 2021)